Harris Golden
President
Pretzelogist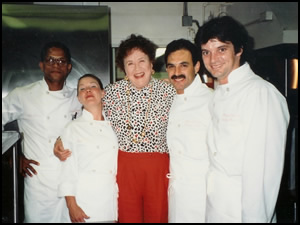 In 1994, I was forty-seven years old and at the top of my game. I was the Executive Chef at Elizabeth Arden's Maine Chance, a world class health resort nestled on the south side of Camelback Mountain in Phoenix, Arizona. Awarded "World's Best" by Lifestyles of The Rich and Famous, Elizabeth Arden's Maine Chance catered to the "quietly wealthy" according to an article in Connoisseur magazine.

There were many benefits that went along with my chef's position. After being awarded "World's Best", book offers came my way from publishers, and I put together two cookbooks, Pleasures of the Palate and Golden's Kitchen the Artistry of Cooking and Dining on the Light Side.
I was featured in culinary magazines such as Food Arts and Bon Appétit. My kitchen crew and I catered special events. One of them was the founder's dinner for the American Institute of Wine and Food which included my favorite TV cooking personality, Julia Child. To keep abreast of culinary trends and to recommend fashionable restaurants to Maine Chance clientele, my company gave me a dining allowance. It was culinary heaven as my wife and I dined in three star restaurants during a vacation in Paris. And when the Four Seasons hotels decided to put healthy cuisine on their menus, they hired me as a consultant affording me the opportunity to work with a team of remarkable chefs. My career aspirations had come true. At the time, I could not ask for more. That is, until my soufflé started to collapse.
show more
At first I couldn't make up my mind whether it was going to be meat, fish, or fowl on the menu. Or maybe it should be vegetarian? I just couldn't decide. I also began to have recurring nightmares: Guests would be waiting in the dining room while I was frantically opening oven doors finding nothing but hollow black caverns. I was burning out.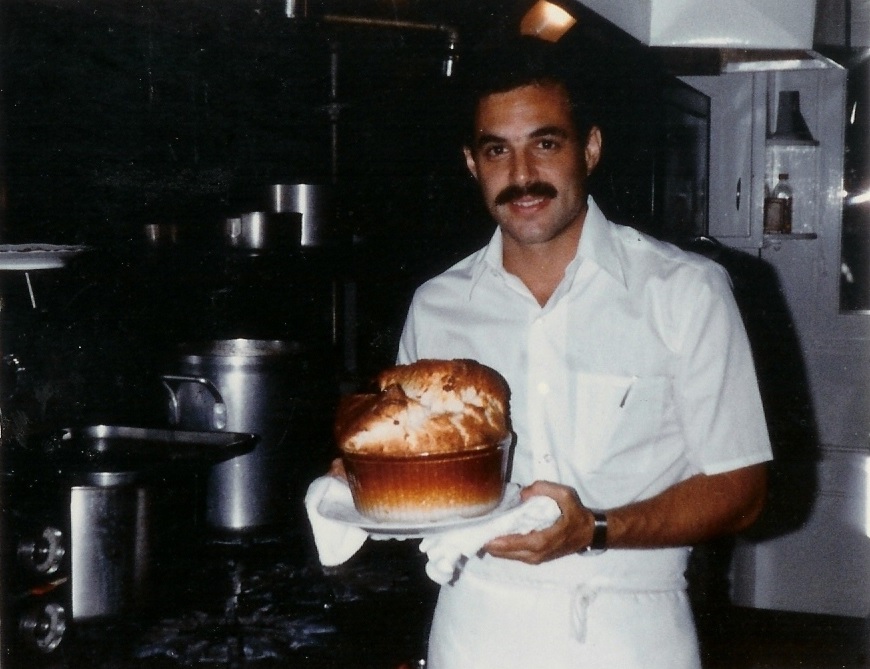 There's a good reason why few chefs make it to the ripe old age of sixty years still intact; not cursing and slamming a fist on a stainless steel table, or aimlessly wondering around the kitchen unsure of exactly what to do. Sure there's the constant heat and humidity with long hours; the pages and pages of daily products to order: fish, meat, poultry, produce, and all the dairy products. There's also the constant worry about food spoilage, even worse, food poisoning that will give a chef premature gray hair. But the major barrier butchering a chef's longevity is timing– having the food ready exactly at 8:00am, then at noon, and then dinner starting at 6:00pm, sharp. A chef can't go into the dining room wringing his hands and tell a room full of hungry patrons something like this, "Excuse me. Excuse me everyone! I… I just want to let you know that tonight we're going to be serving dinner just a half hour later than scheduled. Uh…unfortunately two cooks are out sick, and…" It doesn't happen.
Constant day by day pressure to be on time takes its toll, and I became a casualty as I sat in my office sculpting marzipan teddy bears to decorate birthday cakes, while my kitchen crew scrambled to prepare the cuisine. One day, introspectively, I observed myself: On top of my office desk were sculpting tools, a chunk of marzipan, jars of food coloring, and dozens of bears still needing bow ties for the finishing touches. I had closed my office door to remain undisturbed and focused on my finely ground almond-sugar, candy bears. Then the realization hit me: It was the culinary equivalent of cutting out paper dolls. I was over baked—finished! It was time to hang up my French knives.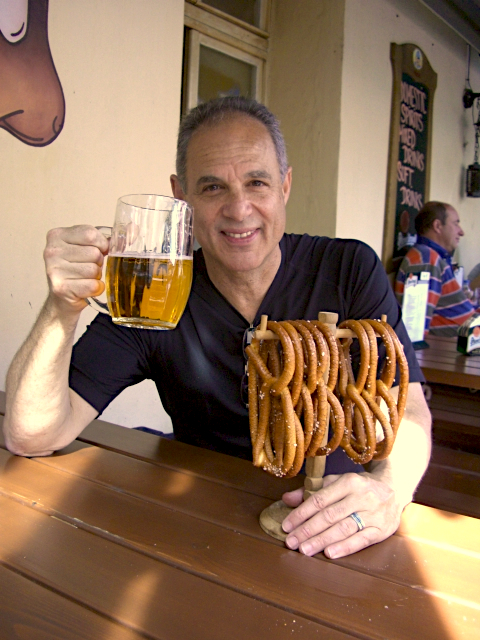 After an eighteen year stint, I left my Executive Chef's position at Maine Chance. With my wife and children behind me, we sold our house in Phoenix and moved to San Diego, home of our summer vacations. I spent the next few months wandering and wondering what I was going to do for a living. After much thought, I decided to make one of my favorite foods–soft pretzels . While growing up in New York City, I purchased thousands of them from carts and kiosks and snacked on them while riding the subway trains and walking along the streets of Brooklyn and Manhattan.
On January 1st, 1995, I leased a location in Ocean Beach which was formerly a small bakery. With no entrepreneurial experience and limited funds, I knew starting a new business would have to be a family affair. With my wife's help, we opened up our first pretzel cart in Fashion Valley mall. I made the pretzels in the early morning hours just before sunrise, and my wife and I sold them off the cart well after sunset, seven days a week. I also traveled from one farmer's market to another selling the twisted treats. As the pretzel cart business expanded, my kids spent weekends and summers selling pretzels, and helping push and shove carts into various locations. In time, the cart business shrunk as our wholesale and online business expanded.
Now, many years later, instead of dining in three star restaurants, my wife and I munch on delicious soft pretzels wherever we can find them. We own a larger baking facility in National City, and work with a terrific crew. I'm very proud of our products which are all about quality, and I can honestly say they rival the best soft pretzels in the world.
When people ask me how I like being in the pretzel business, here's my line: "It's very twisted." Yup…I'm no longer a chef. I guess I can now be called a "pretzelogist".

show less
Leticia Martinez
Production Manager
"LadyBoss"
I started working for San Diego Pretzel Co. (SDPC) in 2008. I can say that this place has become my second home, and the people working here are my family. Actually, one of them, Gerardo Martinez, who runs the office is really my birth son. The rest…
show more
I have kind of adopted. I feel very proud to say I have 20 employees under my guidance. Every one of them has become a big part of my life. I love teaching them how to make their work less stressful, and letting them know that factory production is not about working by yourself. It's about working as a team, which makes the operation run much more efficiently. And, no doubt, teamwork also helps to make the best pretzels.
Yummy!
show less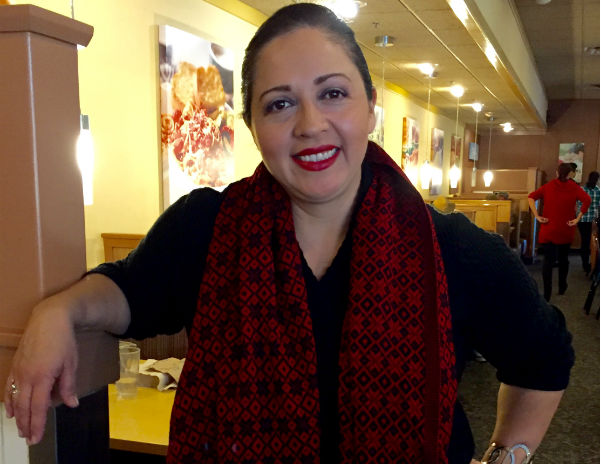 Jesus Lira
Production Supervisor
"The Wolf"
I've been with the San Diego Pretzel Co. since 2005. My nickname is the "The Wolf" (taken from Harvey Keitel's character in Pulp Fiction) because I'm the "go to guy" who gets things done. And, I can do just about everything: I bake and roll pretzels, order products, pack…
show more
and ship goods to our customers, set up & break down trade shows, fix machinery, orchestrate special catering events such as our recent event with Jack in the Box. They say I do all this with a casual smile. Smiling is easy for me because I love my job. I'm also a proud husband and father to my son, Ayden. My family makes me smile, too.
show less
Gerardo Martinez
Office Administrator
"The Computer Guy"

I enjoy the challenge and constant learning process of being the Office Administrator. Everyday is abuzz with friendly customers, colleagues, a stream of phone calls, emails, and deliveries which come and go…it's all so fascinating. The business….


show more
nuances. I like to look at the accounting books sometimes and observe how the numbers adjust to the growth and change of our business. Over the past few years, we've switched from a primarily retail operation (selling pretzels from carts) into a flourishing wholesale company.
We're like a family at San Diego Pretzel Co. We really are, and I'm grateful to be a part of what we're creating. I was telling my wife that it would be great if she worked with us at SDPC. She laughed, "Are you crazy? I can't be with you ALL day!" That's one of the reasons I love her so much. She's very honest.
show less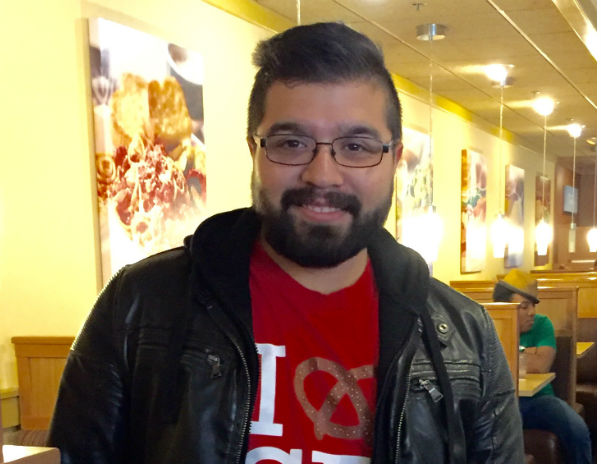 More of Our Pretzelogists